BILL RUSS
BACKGROUND - EXPERIENCE

Bill Russ has been a Brookfield resident for the past 32 years with his wife Barbara and his son Ryan who attends Columbia College in Chicago. His son also graduated Nazareth Academy and St. Barbara School with honors. They are parishioners of St. Barbara Parish in Brookfield. Bill is a current member and former President and Trustee of the Brookfield VFW Post # 2868 Men's Auxiliary. A current member of the Chicago Crime Commission, a member of the Better Government Association and a member of the Mercedes Benz Club of America.

A small business owner for many years, Bill has managed employees, paid taxes, made payrolls, kept books, ran marketing and customer service, and he knows well the importance of small business vitality to the health of our community. Currently an Insurance Administration Consultant and Automotive Industry Consultant. Former Illinois licensed Real Estate Broker for 14 years.
Bill has an extensive record of governmental service to the Village of Brookfield, Illinois, former Village President from 2001 to 2005, he also served as Village Trustee from 1989-1997 and from 1999-2001, Village President Pro-Tem and Finance Chairman from 1995-1997, Village Clerk Pro-Tem from 1989-1995, Former Chairman of the Local Board of Improvements, Former Chairman of Economic Development, Former Liaison to Water and Public Safety Committees, Former Liaison to the West Central Municipal Conference and Liquor Commissioner of the Village of Brookfield. Bill was the past president of the Illinois Small Business Association from 1993-1999, member of the Cook County Economic Development Commission from 1994 to 2002.
Bill is very familiar with financial reports, municipal budgets, union negotiations, labor relations, prevailing wage rates, fair bidding processes, large infrastructure projects, liquor control issues and laws, long term planning, T.I.F. Districts and the most important of all, dealing fairly and honestly with tax-payers and residents.
Bill Russ has shown leadership that is responsible, honest, and committed to improving the Village of Brookfield. Bill bought the CVS Pharmacy to Brookfield, the last and only major business franchise in the last ten years! The current administration has never bought any major business franchise to town.
Many positive changes were made in Brookfield under former Village President Bill Russ and the V.I.P. Party Administration. Experience, hard work, integrity, and a commitment to protecting families are some of the qualities of Bill Russ. Bill is recognized as a dedicated community leader and businessman; he's known as a tireless advocate for working families, the business community, young people, and senior citizens, and is an effective leader, who will fight to make our community safer; preparing and protecting us for a new and more uncertain future.
Bill takes an active interest in the community where lives and in the past has actively worked to improve the Brookfield Little League through team sponsorship and improving the playing fields. The bottom line is … "What Bill says - Bill does".

Area resident donates his time to VFW and is rewarded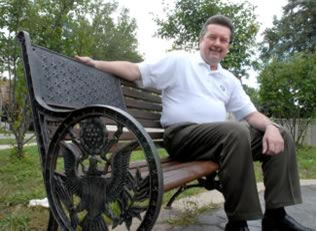 By Janice Hoppe, Brookfield Suburban Life – Sept. 12, 2008
Former village president Bill Russ recently was elected senior vice commander of the Men's Auxiliary at the VFW Post 2868.
Russ became a member of the men's auxiliary about 10 years ago to give something back to the veterans who fought for the country. Russ never served in the military, but was able to join the auxiliary through his father's military service in World War II and Korea.
"It's my obligation as an American to pay them back for what they did," Russ said. "I feel I owe the post and the veterans for preserving freedom."
At the 75th anniversary picnic Sept. 7, Russ was given the a recognition and appreciation award for his support and involvement in the VFW.
"I still have it in my car and showing people around town," Russ said.
Russ said he was given the award because he continues to support and do the "little things" for veterans. He said if families needed food, he was there to help them, along with giving money to those in need to pay for their mortgage or other life necessities.
"It is like a family with the veterans," Russ said. "It is all about helping people."
VFW Commander Dave Kivi said many awards and certificates were given out that night to people and businesses that have supported the VFW through the years.
"A lot (of awards) were given out because of all the years these people have supported us financially, manpower and coming up with ideas," Kivi said.
"LET'S NEVER FORGET AND ALWAYS REMEMBER OUR TRUE HEROES"